What are botulinum toxins (Botox, Xeomin, …)?
Do you have fine lines and wrinkles that are making you feel self-conscious about your appearance? Botulinum toxin injections has been chosen by over 11 million women and men as the number one prescription medication injection to reduce the signs of aging.
Dr. Patricia Berbari and her team offers Botulinum toxins (e.g. Botox, Xeomin, …) at MedicSPA Gatineau to patients who wish to achieve younger-looking skin. We only use injectable products approved by Health Canada.
Contact us today at (819) 243-7667 to find out if Botulinum toxins are right for you.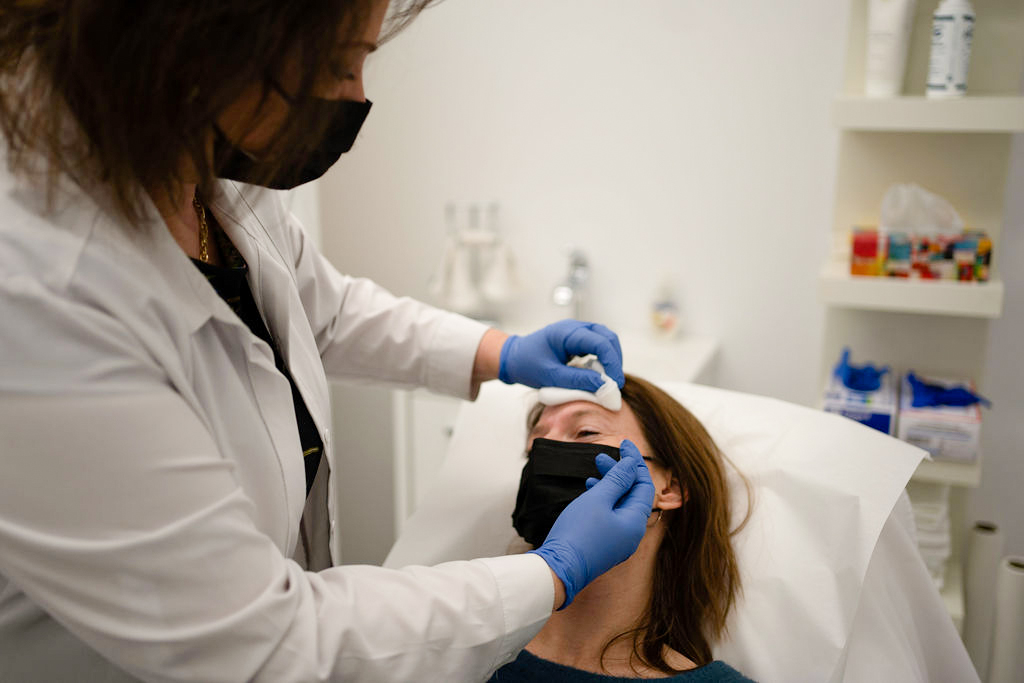 Botulinum toxin injections, such as Botox, Xeomin & others are administered at MedicSPA  Gatineau by Dr. Berbari or a member of her team. She believes that all injectable treatments should be performed by physician specialists.
Dr. Berbari is a board-certified plastic surgeon by the Royal College of Physicians and Surgeons of Canada and a member of the Canadian Society of Plastic Surgeons, the Canadian Laser and Aesthetic Specialists Society, and the International Society of Aesthetic Plastic Surgery.
As an Canadian expert injector with numerous years of experience and as the ex-President-elect of the Canadian Laser & Aesthetic Specialist Society (C.L.A.S.S.), Dr. Patricia Berbari, can help you to meet your cosmetic needs.
The temporary wrinkle treatment can be performed on patients who are 18 years of age or older. Botulinum toxin helps relax the muscles of facial expression that cause wrinkles in the face.
By carefully placing the injections, Dr. Berbari and her team can dramatically smooth your fine lines and wrinkles for up to four months, which means upkeep and re-treatment at least twice a year is required in order to fulfill and maintain your cosmetic goals.
If you wish to achieve results similar to those possible through a face lift procedure, but don't wish to undergo an invasive treatment, we offer a "mild lifting effect," which involves injections of a combination of a botulinum toxin injection (E.g. Botox, Xeomin, …) and a dermal filler (hyaluronic acid).  Dermal fillers help make the skin more plump. Combined with the effects of a Botulinum toxin, this option puts an immediate facial rejuvenation within your reach.
Body area treated:
Face, underarms, hands, other
Procedure length:
10-15 minutes
Visible results:
4-10 days
Number of sessions:
Every 4 months
Potential risks:
Bruising, Asymetry, droopy eyelids
For more details discuss with the doctor, not all effects and complications are listed
Other uses of botulinum toxins
A smile is considered a "gummy smile" if a significant amount of gingival tissue is revealed when a person smiles. If you wish to transform the appearance of your smile by concealing your visible gum line, botulinum toxins may be an ideal solution for you. With as little as two injections, Dr. Berbari and her team can minimize the exposure of your gums in a pleasant and beautiful way.
Some people suffer from tension migraines. This treatment can help you with these migraines for a period of 4 months, thanks to the muscle-relaxing effect of medical Botox, and also avoid the excessive use of medication.
Similarly, people who have to wear an occlusal plate at night to treat bruxism (grinding of teeth at night and wear of their surface) can receive injections of medical Botox into the cheek muscle (masseter) and no longer be burdened with a night appliance.
Finally, excessive sweating in the armpits or hands can become a social handicap. Injections of medical Botox can help you avoid embarrassing situations.
It is important to have a certified, highly qualified medical professional administer injections of Botulinum toxins and dermal fillers to ensure superior results that look and feel natural.
You should not receive botulinum toxin injections if you are allergic to botulinum toxin products are pregnant and/or have an infection at the designated injection site, or suffer from serious medical conditions.
Although botulinum toxins such as Botox, Xeomin and others are proven to be effective at replenishing a youthful look and smoothing fine lines and wrinkles, there are some side effects that a patient should take into account before beginning treatment. Dr. Berbari or a member of her team will present them to you during your consultation.
Botulinum toxin injections are considered to be a "lunch-time" procedure, meaning treatment doesn't require recovery time; in fact, patients can return to normal activities immediately following treatment.
Interested in this service?
To learn more about the procedure or to schedule a consultation, contact us at MedicSPA Gatineau today at (819) 243-7667.