Over time, dead skin cells and environmental grime can cause your facial skin to lose its natural beauty. This can result in the presence of lines in the skin and uneven skin tone and texture, which can cause women and men to look older than they are.
While these aesthetic concerns can negatively affect your self-esteem, non-surgical cosmetic procedures can actively address and correct these issues to help you regain a youthful and radiant glow to your skin. One of the most effective non-surgical treatments that can help to rejuvenate your facial appearance is a chemical peel.
MedicSPA Gatineau, serving the greater Ottawa area, is proud to offer several chemical peel options to help patients achieve the facial aesthetic they desire.
Contact MedicSPA Gatineau at (819) 414-2200 to see if you are a candidate for a chemical peel treatment.
As the name suggests, a chemical peel is a non-surgical treatment in which an acid (chemical) solution is applied to the face, causing the outermost layers of skin to peel. This exfoliation process actively removes dead cells and other dirt and grime on the skin to expose new and healthy skin.
In addition to exfoliating the topmost skin, a chemical peel stimulates collagen and elastin production, which is important since these two proteins are responsible for the overall strength, health and elasticity of the skin. This means that you can achieve healthier and tighter skin after the treatment.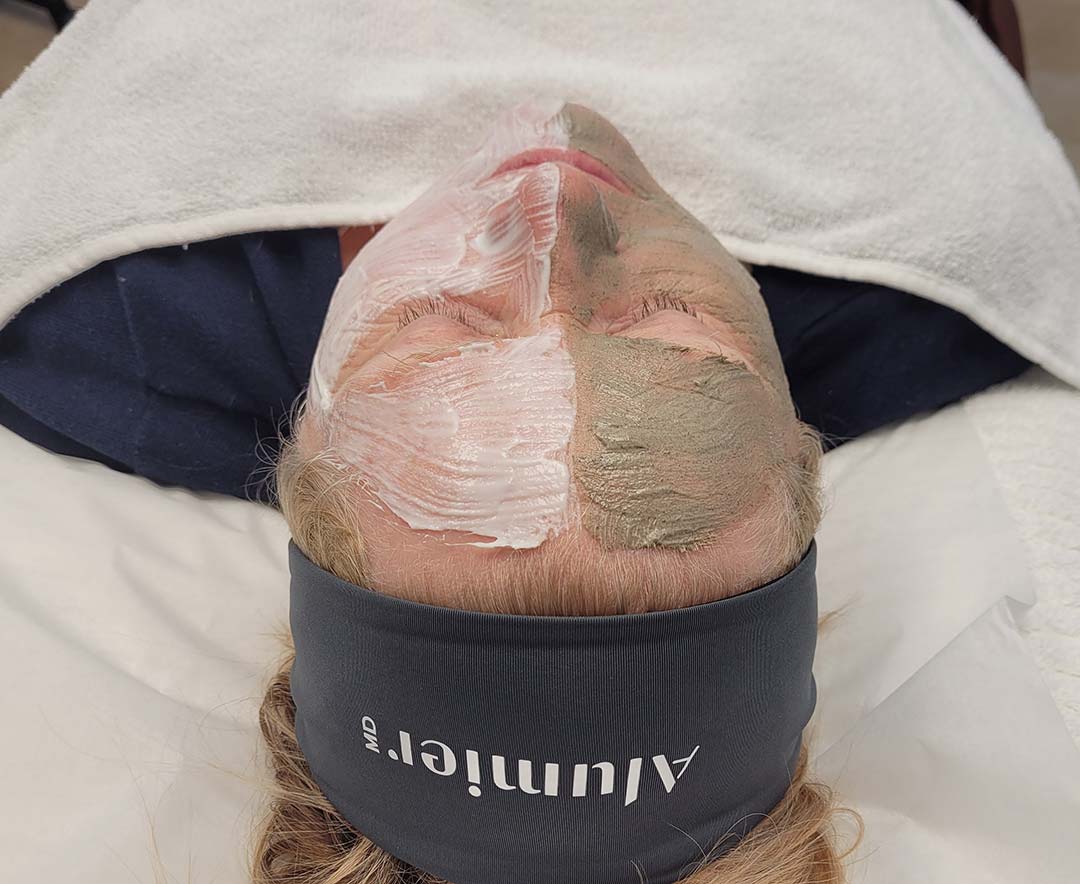 What Are the Benefits of a Chemical Peel?
Chemical peels can address a variety of imperfections on the face while improving patients' comfort and confidence with their appearance. Some of the skin issues that can be improved with chemical peels include:
Wrinkles
Fine lines
Age spots
Sun damage
Hyperpigmentation
Large pores
Uneven skin tone
Acne
Procedure length:
1 hour - 1h30
Visible results:
Progressive
Number of sessions:
Every 4 months
Potential risks:
Redness, Itchy
For more details discuss with the doctor, not all effects and complications are listed
how are chemical peels performed?
How Is a Chemical Peel Performed?
Dr. Berbari and her team at MedicSPA Gatineau offers two different chemical peel options: a glycolic peel and a salicylic peel.
While both of these chemical peels can achieve stunning results, they each target different skin conditions. At your consultation, Dr. Berbari will evaluate your facial skin to help you choose the right peel for you.
A glycolic peel is a fantastic option for women and men looking to achieve a smoother, more youthful appearance while also reducing and preventing the presence of acne. This peel uses a mild Alpha Hydroxy Acid (AHA) that causes exfoliation of the topmost layers of your skin. During this process, the damaged, dirty, and unhealthy layers of skin are removed, and collagen and elastin in the deeper layers of skin are regenerated.
For this treatment, your skin will be thoroughly cleansed. Next, the acid peel will be applied. This solution will be left on the skin for a specified amount of time before it is removed. Once the solution is removed, a lightweight moisturizer or calming mask will be applied to the treated skin.
The length of time for the treatment varies for each patient and is dependent on the type of peel and how many layers are applied. At your consultation, a treatment plan will be created specifically for you.
Over the next few days, the top layers of skin will begin to flake and peel away to reveal healthy and new skin.
A salicylic peel can be used to treat oily skin, clogged pores, seborrheic dermatitis, wrinkles, fine lines, psoriasis, acne, sun damaged skin, dry or dehydrated skin and uneven skin tones. This peel uses Beta Hydroxy Acid (BHA), which causes a light peel (only the first layer of skin is treated).
As with a glycolic acid peel, your skin will be thoroughly cleansed, and the solution will be applied to the skin and left on for a specified duration of time. The solution will then be removed, and a calming cream will be applied to the treated area. Over the next several days, mild flaking of the top layer of skin will occur, leaving you with refreshed and glowing skin.
Are There Risks and Complications With Chemical Peels?
Regardless of whether you have a glycolic peel or a salicylic peel, complications are rare with chemical peels. However, as with any cosmetic treatment or procedure, there are some risks, including:
Pain, hot and burning sensations
Uneven pigmentation and scarring.
By following your post-treatment instructions, you can minimize the risk of any complications.
One of the benefits of choosing MedicSPA Gatineau is that our board-certified plastic surgeon is onsite and always available to address any unexpected concerns that may develop.
Is There Downtime After a Chemical Peel?
While you can return to many of your normal activities immediately following your chemical peel treatment, you will need to make sure that you avoid direct sunlight. Depending on the type of peel you had performed, you will experience flaking and peeling of the treated skin for one to four days. It is important that you do not peel or scratch at the flaking skin.
Many patients experience some discomfort following their chemical peel. Medication can be taken to alleviate any pain that you experience, and you can gently place cold compresses on the treatment areas to soothe the skin.
Dr. Berbari and our skilled providers at MedicSPA Gatineau will provide all patients with more specific information about their treatment and aftercare instructions during their consultation.
When Will I See My Results?
Once the upper layers of skin have flaked off, you will be left with smoother, softer, more vibrant skin that feels as good as it looks. Additionally, because collagen and elastin are stimulated during this procedure, you will be able to see progressive improvements to your facial skin.
It is important to note that chemical peel treatments are not permanent. This is because of the natural cycle of your skin (where new skin cells age and die, congesting your skin). Because of this, it is recommended that patients undergo a chemical peel every four months. Additionally, eating healthy, keeping hydrated, limiting sun exposure and maintaining a consistent skincare routine can help prolong results.
While a chemical peel is a fantastic option to rejuvenate your skin when performed as a standalone treatment, best results can be achieved by combining a peel with non-invasive photo-rejuvenation treatments, like the IPL Lumecca treatment.
Why Should I Choose MedicSPA Gatineau?
Dr. Patricia Berbari is a board-certified plastic surgeon, the Past President-elect of the Canadian Laser & Aesthetic Specialist Society (C.L.A.S.S.), and a member of several societies, including:
Collège des médecins du Québec
College of physicians and surgeons of Ontario
Association des spécialistes en chirurgie plastique et esthétique du Québec
Royal College of Physicians and Surgeons of Canada
Canadian Laser and Aesthetic Specialists Society
International Society of Aesthetic Plastic Surgery
As the medical director and supervisor of MedicSPA Gatineau, Dr. Berbari meets every patient for their first consultation and helps them determine the right course of action. Coming from plastic surgery, she understands the natural progression of aging and can help create an effective treatment plan for you. Dr. Berbari is an expert injector with numerous years of experience.
Our medical spa is adjacent to our surgical center, and Dr. Berbari is always nearby. Here at MedicSPA Gatineau, we pride ourselves on our dedication to the care of our patients and the quality of our services.
Interested in Learning More About Chemical Peels in Gatineau, QC?
To learn about the benefits of chemical peels, contact Dr. Berbari and her exceptionally skilled team at MedicSPA Gatineau by calling (819) 414-2200. MedicSPA Gatineau sees patients from Gatineau, Ottawa and the surrounding areas. We look forward to helping you achieve the beautiful facial skin you desire.