Botulinum Toxin Treatments
Fine lines and wrinkles around the eyes and lips can make you self-conscious about your appearance. While some of these lines come from the natural aging process, others are worsened by repeated facial expressions, including squinting and smiling. These are known as dynamic wrinkles, and they can be treated with injectable botulinum toxin treatments.
Botulinum toxins are the most commonly used and trusted cosmetic treatment today, with millions of injections performed every year to reduce the common signs of aging.
Dr. Patricia Berbari and her team at MedicSPA Gatineau offer botulinum toxins approved by Health Canada for patients who wish to achieve younger-looking skin.
Contact MedicSPA Gatineau at (819) 414-2200 to find out if botulinum toxins are right for you.
What Are Botulinum Toxins?
Botulinum toxins (best known by the brand names BOTOX® Cosmetic and XEOMIN®) are produced by the bacterium Clostridium botulinum. This injectable facial enhancement smooths unwanted wrinkles by relaxing the muscles responsible for the lines. By carefully placing the injections into the muscles, fine lines and wrinkles can be minimized for up to four months.
Candidates for botulinum toxin injections are patients over the age of 18 who wish to address existing fine lines and wrinkles or prevent the development of these lines. Botulinum toxins also have non-cosmetic uses (listed below).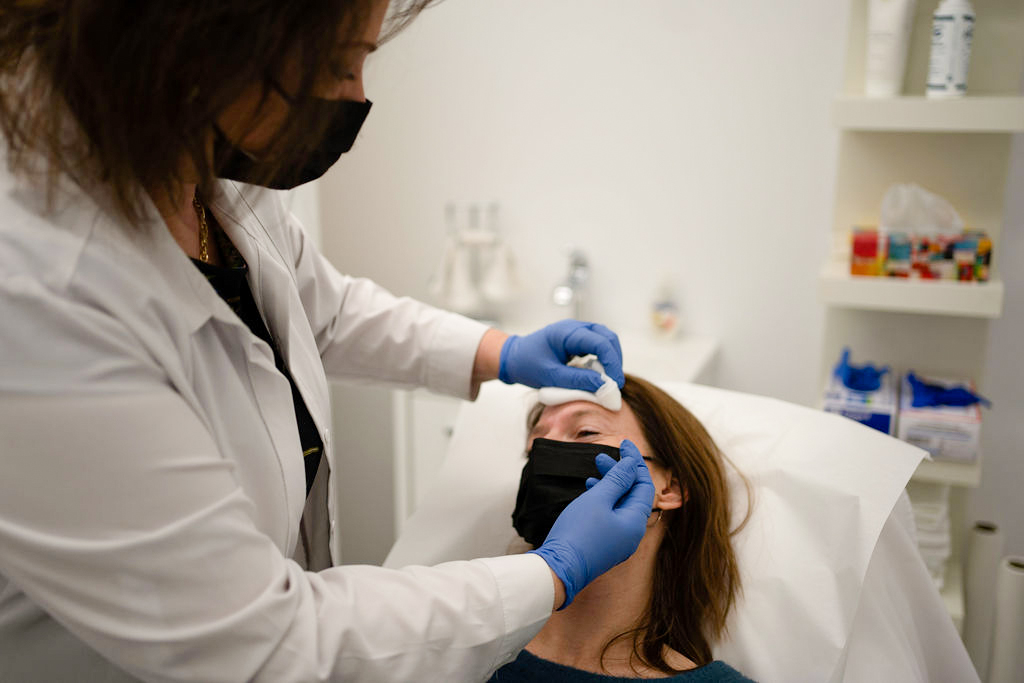 What Are the Benefits of Botulinum Toxins?
While best known as an anti-aging treatment, botulinum toxins have cosmetic and medical uses. Botulinum toxins can temporarily relieve:
Wrinkles around the eyes and forehead, including crow's feet, frown lines (11's between the eyebrows), horizontal forehead lines and other areas of your face and neck
Gummy smile
Migraines
Excessive sweating in the armpits or hands
Bruxism (teeth grinding)
Body area treated:
Face, underarms, hands, other
Procedure length:
10-15 minutes
Visible results:
4-10 days
Number of sessions:
Every 4 months
Potential risks:
Bruising, Asymetry, droopy eyelids
For more details discuss with the doctor, not all effects and complications are listed
What Are the Benefits of Botulinum Toxins?
Botulinum toxin treatments involve a series of injections into the desired treatment areas. This procedure usually only takes 10 to 15 minutes to complete.
While botulinum toxins are well-received by most patients, there is the potential for bruising, asymmetry, and droopy eyelids. Dr. Berbari or your injectable nurse will review the full list of potential side effects during your consultation.
Patients can use a combination of botulinum toxins and dermal fillers to achieve a mild lifting effect and plumper skin. These results may be similar to a facelift for qualifying candidates; however, these treatments cannot replicate the same results as surgical treatment.
The team at MedicSPA Gatineau believes in treating the whole issue; this is why they promote combination treatments that include skin care and skin preparation treatments, such as a HydraFacial®.
Are There Risks and Complications With Botulinum Toxins?
You should not receive botulinum toxin injections if you are allergic to botulinum toxin products, are pregnant, have an infection at the designated injection site, or suffer from serious medical conditions.
Although botulinum toxins are proven effective at replenishing a youthful look, there are some side effects that a patient should consider before beginning treatment. Dr. Berbari or a member of her team will present them to you during your consultation. Fortunately, unlike some other practices, MedicSPA Gatineau offers the benefit of having a skilled and experienced plastic surgeon onsite to address any complications or adverse side effects that may occur.
Is There Downtime After Botulinum Toxin Injections?
Botulinum toxin injections can be completed in minutes and require no downtime. Patients can immediately return to work and their normal daily activities. It may be best to avoid strenuous exercise for at least 24 hours after treatment.
When Will I See My Results?
Because botulinum toxins target the muscles, most patients see a reduction in their fine lines and wrinkles after 4 to 10 days.
Results vary by patient but typically last four months. Most patients receive injections at least two times a year to maintain optimal results.
Why Should I Choose MedicSPA Gatineau?
It is important to have a certified, highly qualified medical professional administer botulinum toxins injections to ensure superior results that look and feel natural.
Botulinum toxin injections, including BOTOX® Cosmetic and XEOMIN®, are administered at MedicSPA Gatineau by Dr. Berbari or a nurse from her team under her supervision. She believes that all injectable treatments should be performed or supervised by a physician specialist.
Dr. Patricia Berbari is a board-certified plastic surgeon, the Past President-elect of the Canadian Laser & Aesthetic Specialist Society (C.L.A.S.S.), and a member of several societies, including:
Collège des médecins du Québec
College of physicians and surgeons of Ontario
Association des spécialistes en chirurgie plastique et esthétique du Québec
Royal College of Physicians and Surgeons of Canada
Canadian Laser and Aesthetic Specialists Society
International Society of Aesthetic Plastic Surgery
Dr. Berbari is an expert injector with numerous years of experience.
Interested in Learning More About Botulinum Toxins in Gatineau, QC?
To learn more about botulinum toxins or to schedule a consultation, contact us at MedicSPA Gatineau at (819) 414-2200. You can also learn about our other state-of-art cosmetic treatments, including Morpheus8™, FaceTite®, and laser resurfacing.
We see patients from Gatineau, Ottawa, and the surrounding areas.