5 Uses for Dermal Fillers (Besides Lip Injections)
Posted October 02, 2023 in Injectables
"Volume" is the operative word whenever you talk about dermal fillers. While many women use dermal fillers to plump their lips, there are many other uses for this versatile treatment.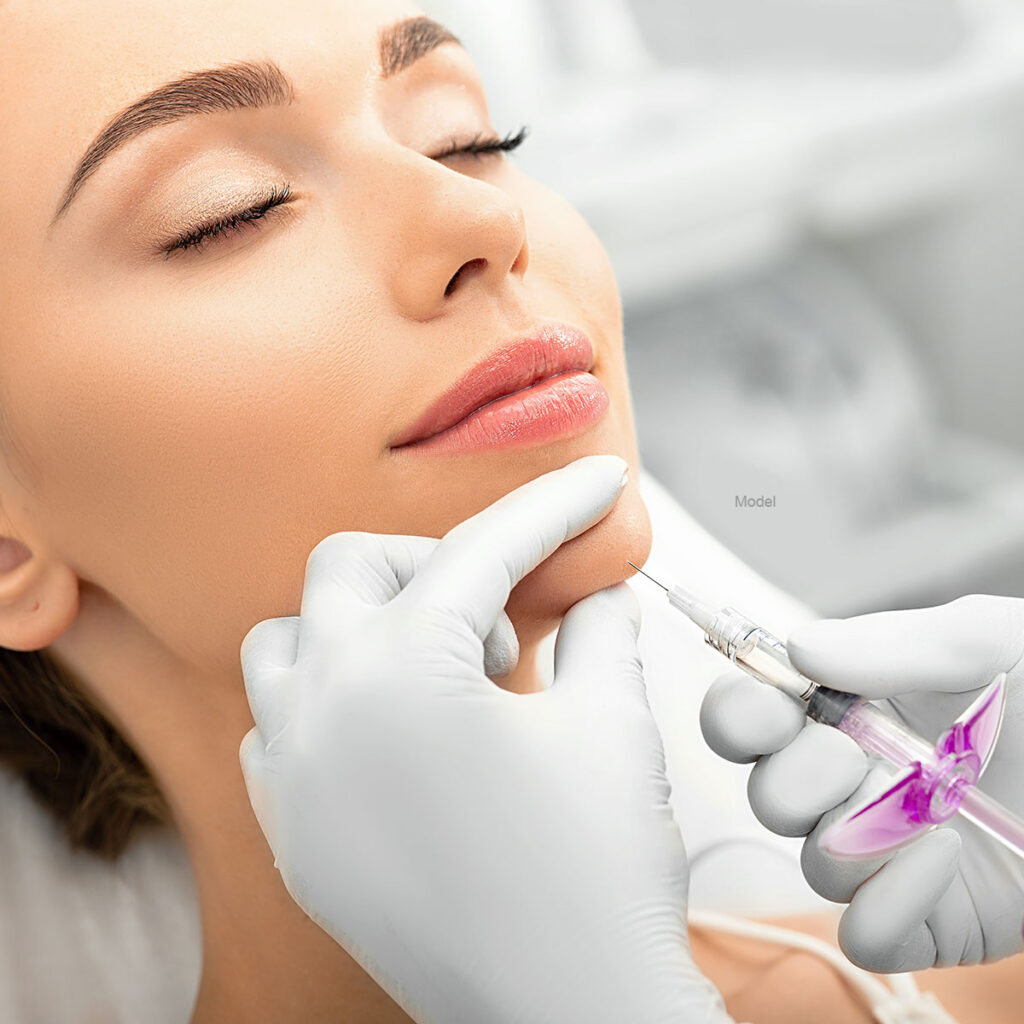 At MedicSPA Gatineau, Dr. Patricia Berbari and her team of highly skilled medical aestheticians understand that aging gracefully doesn't mean accepting an increase in fine lines and wrinkles.
That's why we offer a variety of dermal fillers designed to address nearly any aging concern you may have.
Below, we explore some of the options for filler placement beside your lips.
1. Add Volume to Hollow Cheeks and Temples
One of the things you might notice as you age is the loss of volume in your upper face, especially your cheeks.
When you're young, fat pads are evenly distributed across your face, making your cheeks soft and supple and filling in the areas around your temples and eyes.
As your skin ages, the structure supporting those fat pads begins to break down, and the fat shifts downward. The process often leaves you with hollow cheeks and temples. Fortunately, dermal fillers can change that.
Dermal fillers are strategically placed in your cheeks and temples to replace lost volume and provide a base for new collagen growth that helps the results of the filler last longer.
2. Minimize Dark Circles and Hollows Under Your Eyes
With the increased use of masks and time spent on camera for virtual work, the focus for many people is the appearance of their eyes.
Whether due to genetics, age, lifestyle choices, or all three, no one wants to appear tired or worn out. Hyaluronic acid fillers work to fill in the under-eye area, known as the tear troughs, to help you look fresher and rejuvenated.
Similar to your cheeks, the area under your eyes can also lose volume over time, leaving you with dark circles, shadows and a hollowed-out look around your eyes. Dermal fillers can subtly replace lost volume, minimizing the look of dark circles and giving you a more alert appearance.
3. Sharpen and Shape Your Jawline
While a sharper jawline may not be something you've given much thought to, there are several  benefits of using dermal fillers to define your jaw, including:
Adding balance to your lower face by strengthening the look of a "weak" chin
Smoothing out fine lines along the jaw and restoring volume to aging skin
Adding contour and correcting asymmetry to provide a more graceful curve of the jawline
Dermal filler in your jawline can also be a good way to determine if you want to undergo surgery like chin implants or rhinoplasty for a more permanent solution for restoring proportion to your face.
4. Smooth Deep Creases Around Your Nose and Mouth
If you have deep lines that extend from the corner of your mouth down to your chin, you have what are known as "marionette lines." They develop over time due to volume loss and gravity, leaving you with saggy skin and a more downturned mouth.
Marionette lines are easily treated with dermal fillers, restoring the lost volume, filling in the deep lines and reducing the appearance of sagging. If you're not quite ready for a more invasive answer to an aging lower face, dermal fillers are a great option.
5. Rejuvenate Aging Hands
Even if your face looks young, your hands can give away your age. Loss of volume in your hands leads to more prominent veins and tendons, thinning and crepey skin and increasingly visible bones and wrinkles. Filler injections in your hands give them a smoother, plumper look and help hide your true age.
Filler injections in your hands last up to a year and are a safe and effective way to treat age-related volume loss in your hands.
Learn More About Dermal Fillers in Gatineau
If you're plagued with volume loss in your face and hands and want a non-invasive solution to your concerns, look no further than the experts at MedicSPA Gatineau.
Dermal fillers offer beautiful, lasting results with no downtime required. Our trained and experienced medical aestheticians will work with you to create a customized treatment plan to help you feel confident as you age.
For more information or to schedule a consultation, call 819-414-2260 or fill out our online contact form.