Introducing L'Esthétic Meso, an exclusive line of innovative, targeted products for the body, skin and hair.
Created in France, L'Esthétic Meso utilizes ingredients developed just for patients like you who want a targeted approach to skin and hair care.
Time marches on, and the body can suffer the effects of fat gain, sagging skin, sun spots and thinning hair. But with L'Esthétic Meso, you can address these concerns to reduce the most common signs of aging.
Contact MedicSPA Gatineau at (819) 414-2200 to determine if the exclusive L'Esthétic Meso line is right for you.
Mesotherapy is a targeted way to reduce signs of aging in the skin and help increase hair thickness. Using tiny injections, mesotherapy has been shown to address various aesthetic concerns.
L'Esthétic Meso's line of highly specialized, 10,000-molecular-weight ingredients include:
Vitamins
Natural extracts
Hyaluronic acid
Organic silicon
Blended into five groundbreaking formulations, the L'Esthétic Meso line elevates skin, body and hair care for those who are serious about turning back the appearance of time.
What Are the Products in L'Esthétic Meso Line?
Five exclusive items make up our special Mesotherapy line.
Skinlight Meso® Lightening Solution
Made with:
Ascorbic acid
Glutathione
Vitamin B3
Niacinamide
This formula reduces pigmentation, brightens skin and helps protect from the effects of UV rays. This is suitable for both the face and body.
Hair Revitalizer Meso® Hair Booster
Made with:
Calcium pantothenate
Pyridoxine
Biotin
Zinc gluconate
Cysteine
The ingredients in this formula stimulate hair regrowth and fight further hair loss.
HA+ Skinbooster Meso® Anti-Aging and Revitalization Complex
Made with:
Collagen stimulators
Anti-aging Complex
Cell revitalizers
Skin elasticity enhancers
Skin metabolism enhancers
This powerful formula corrects signs of aging while preventing new signs from occurring. 95% of women saw a difference using this product.
Slim Body Meso® Fat and Cellulite Reducer
Made with:
Caffeine
Sodium
Green tea
Reduce the appearance of cellulite with this innovative, targeted treatment.
Mesofiller+® Intensive Moisturizer - Smooth and Glow
Made with:
Sodium Hyaluronate
Sodium and disodium phosphate
Sodium chloride
This unique blend densifies the extracellular matrix and intensely hydrates the skin for a younger-looking appearance.
Body area treated:
Face, hair, neck, chest (cellulite with slim body booster that we don't have)
Procedure length:
45 minutes - 1h
Visible results:
Immediate and evolving for 3 months after the last treatment
Number of sessions:
3 to 6 every week or every month
Potential risks:
Temporary redness
For more details discuss with the doctor, not all effects and complications are listed
Are There Risks and Complications With L'Esthétic Meso Line?
L'Esthétic Meso line was created with safety and efficacy in mind. However, the products are powerful and targeted to deliver fast, complete results. If you experience irritation, contact Dr. Berbari.
When Will I See My Results?
Products in L'Esthétic Meso get to work immediately, hydrating and repairing the skin, body and hair. However, results will become more apparent over time.
Use all products as directed, and ask Dr. Berbari when you can expect to see results from the product you have chosen.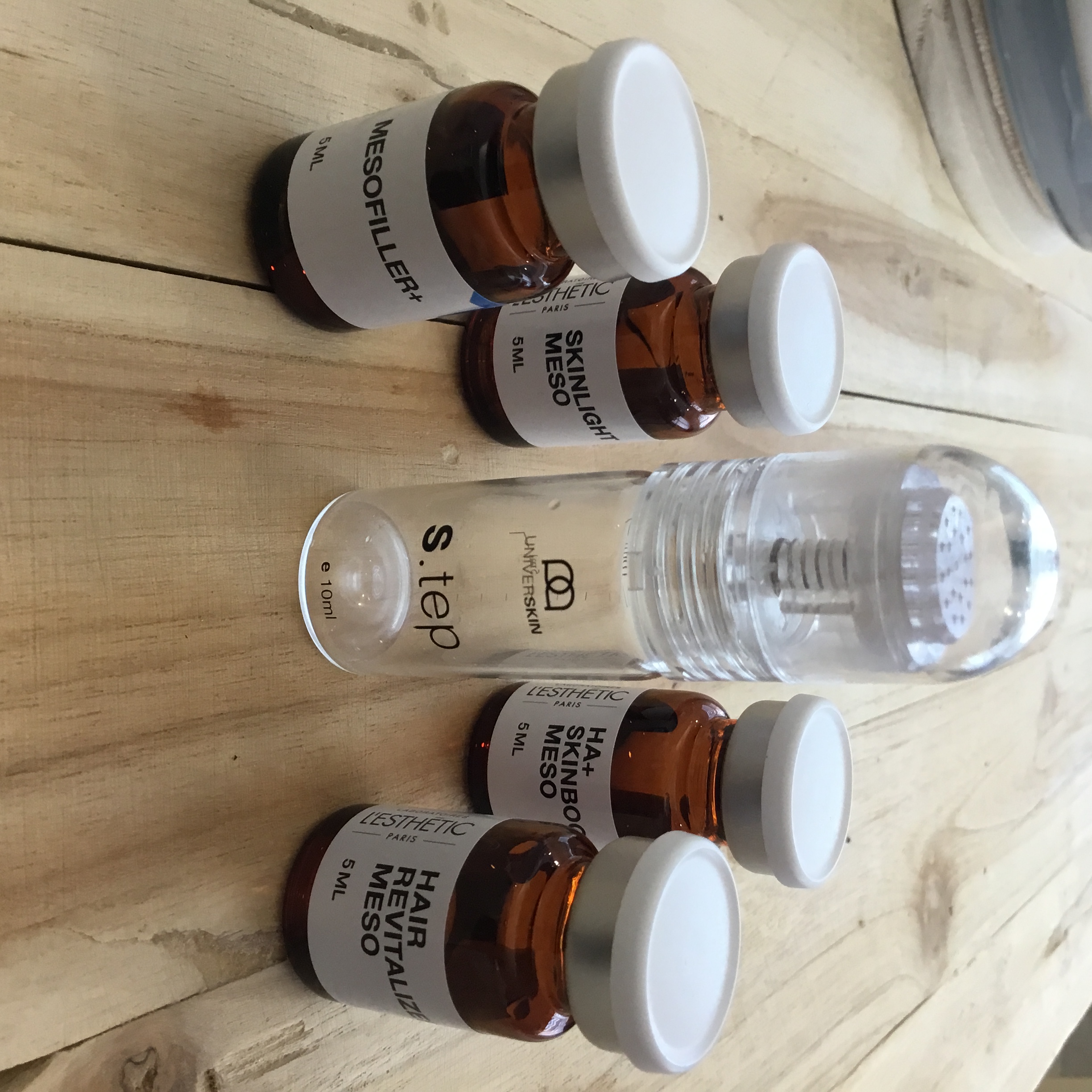 Why Should You Choose MedicSpa Gatineau?
Dr. Patricia Berbari is a board-certified plastic surgeon, the Past President-elect of the Canadian Laser & Aesthetic Specialist Society (C.L.A.S.S.), and a member of several societies, including:
Collège des médecins du Québec
College of Physicians and Surgeons of Ontario
Association des spécialistes en chirurgie plastique et esthétique du Québec
Royal College of Physicians and Surgeons of Canada
Canadian Laser and Aesthetic Specialists Society
International Society of Aesthetic Plastic Surgery
Dr. Berbari is a skin and body expert with numerous years of experience.
Interested in Learning More About Meso Treatments in Gatineau, QC?
To learn more about mesotherapy or to schedule a consultation, contact us at MedicSPA Gatineau at (819) 414-2200. You can also learn about our other state-of-art cosmetic treatments, including Morpheus8™, FaceTite®, and laser resurfacing.
We see patients from Gatineau, Ottawa, and the surrounding areas.